Gelato has two distinct base ingredients, cream (dairy) and water. The manufacturing processes are very similar and both styles are very creamy and have intense flavors.
Majority of our cream flavors don't contain gluten. The flavors that do are: Birthday Cake, Bacio, Caffe Break, Cookie Dough, Cookies & Cream, Gingerbread, Rocky Road, S'more.
Our water based Sorbets are dairy and gluten free.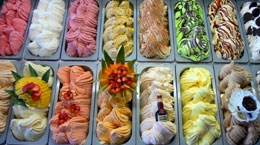 Our gelato is made with premium ingredients selected to make every bite an experience.  Made with authentic Italian know how, our product stands out and is a true indulgence.
Authentic Italian Flavors
Bacio
Caffe
Caffe Break
Chocolate
Hazelnut
Panna
Pistachio
Salted Caramel
Stracciatella
Tiramisu
Vanilla Bean
Birthday Cake
Banana Cream
Banana Toffee Crunch
Blackcurrant
Caramel
Cheesecake
Cherry Chocolate
Cinnamond Almond Crunch
Coconut
Coconut with Chocolate Flakes
Cookie Dough
Cookies & Cream
Eggnog (seasonal)
Gingerbread (seasonal)
Lemon Poppy Seed
Maple Nut
Milk Chocolate
Mint Chocolate
Orange Cream
Peaches & Cream (New!)
Peanut Butter with Chocolate Flakes
Peppermint Candy Cane (seasonal)
Peppermint Patty
Pumpkin Pie (seasonal)
Raspberry Cheesecake
Raspberry Cream
Rocky Road
Root Beer Float
S'more
Strawberry Buttercream
Strawberry Cream
Toasted Marshmallow
Vanilla Cinnamon
Whiskey Creme
Gelato Fruit Flavors (Sorbet)
Authentic Italian Flavors
Blood Orange
Blueberry
Cherry
Mango
Orange
Pineapple
Pink Grapefruit
Pomegranate (seasonal)
Raspberry
Raspberry Lemonade
Tangerine
Wildberry